Weekly Market Commentary – 6/2/2023
-Darren Leavitt, CFA
Investors enjoyed an excellent week of gains in US equity markets. Washington finally got a debt ceiling deal through Congress and onto President Biden's desk. On the margin, it appears that the Republicans came away with a small victory, but in reality, the deal kicks the can down the road, and we will likely find ourselves in the same position two years from now. The agreement did avoid a US default and helped to prompt this week's broad-based rally.
Rhetoric out of Global Central Banks tilted toward a more dovish tone. In Europe, ECB officials acknowledged that more hikes are coming but suggested that they are near their terminal rate. Here, in the US, Fed Presidents offered conflicting points of view on whether a pause is needed at the June meeting. Cleveland Fed President Mester contends that there is insufficient evidence in the economic data to warrant a pause at the June meeting. Presidents Harker and Jefferson argue that the Fed should pause in June until they have seen more data. The conflicting opinions are likely to become more prevalent in coming meetings. Coming into the week, the CME Fed Funds Futures tool assigned nearly a 70% probability of a 25-basis point hike in June. The possibility plunged to less than 25% after Harker's and Jefferson's comments alongside a weaker ISM Manufacturing print.
The S&P climbed 3.23% as it broke above technical resistance at 4200. The Dow added 3.05%, the NASDAQ led again with a gain of 4.27%, and the Russell 2000 advanced 3.27%.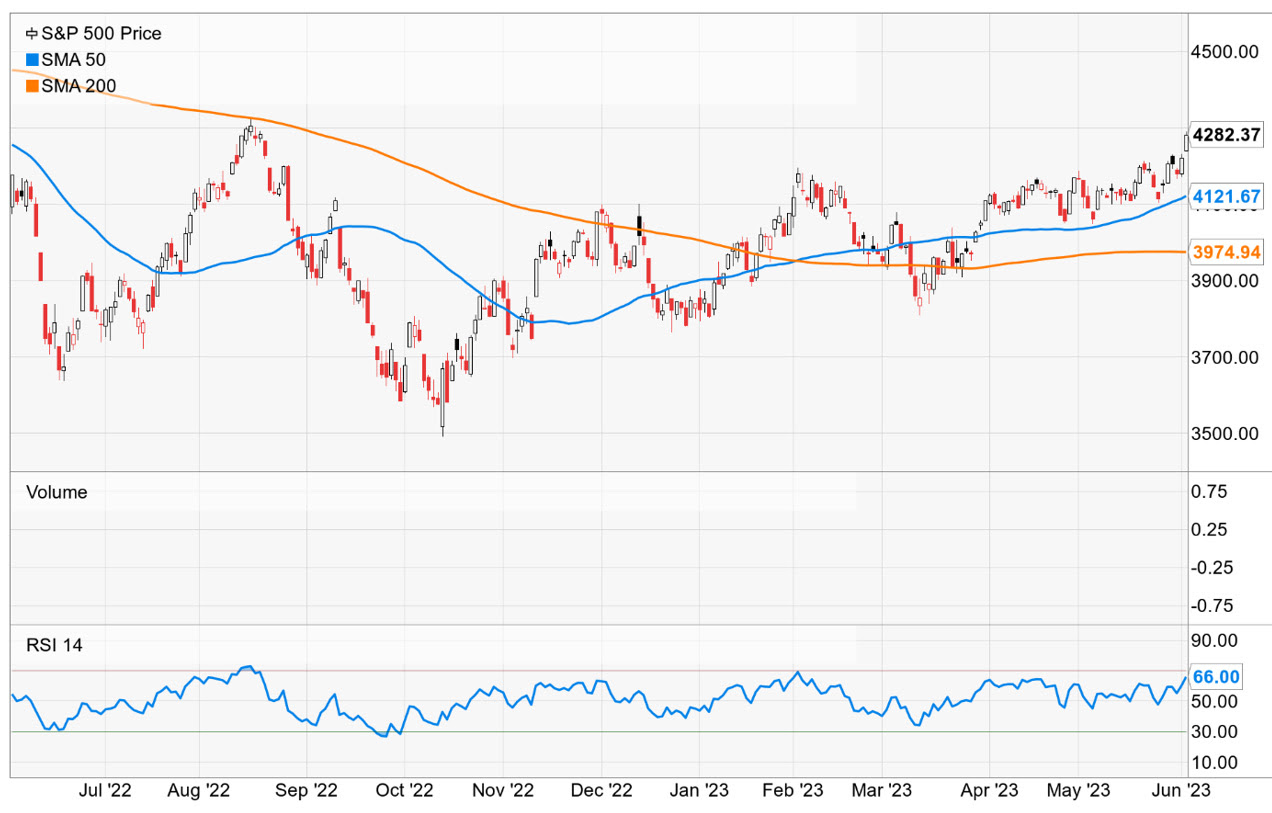 The US Treasury market had another turbulent week. US Treasury prices increased across the curve but pulled back significantly after a robust Employment Situation Report. The 2-year decreased by five basis points to 4.51%, while the 10-year yield fell by eleven basis points to 3.69%.
The commodity complex ended the week with mixed results. Oil prices fell by 1.2% to $71.65 a barrel despite rumors that OPEC+ is poised to announce another production cut this weekend. Gold prices advanced by $26.40 or 1.3% to $1969.8, while Copper prices increased by $.05 to $3.72 an Lb. The Dollar index traded slightly lower this week.
The May Employment Situation report highlighted economic data for the week. The report showed a resilient labor market as Non-Farm Payrolls increased by 339k versus the street's expectation of 210k. Similarly, 283k Private Payrolls were created in May, above the 200k estimate. The Unemployment rate rose to 3.7% from 3.4% as Average Hourly earnings increased as expected at 0.3% month-over-month. JOLTS data showed increased job openings from the prior month and stood at 10.103 million in May. ADP figures payroll figures also came in well above estimates at 278k. ISM Manufacturing showed that part of the economy continues to be in contraction. The report came in at 46.9 versus the forecast of 46.8. However, the information showed signs of improvement in the Prices Paid component, which supports the view that inflation continues to moderate.
Investment advisory services offered through Foundations Investment Advisors, LLC ("FIA"), an SEC registered investment adviser. FIA's Darren Leavitt authors this commentary which may include information and statistical data obtained from and/or prepared by third party sources that FIA deems reliable but in no way does FIA guarantee the accuracy or completeness.  All such third party information and statistical data contained herein is subject to change without notice.  Nothing herein constitutes legal, tax or investment advice or any recommendation that any security, portfolio of securities, or investment strategy is suitable for any specific person.  Personal investment advice can only be rendered after the engagement of FIA for services, execution of required documentation, including receipt of required disclosures.  All investments involve risk and past performance is no guarantee of future results. For registration information on FIA, please go to https://adviserinfo.sec.gov/ and search by our firm name or by our CRD #175083. Advisory services are only offered to clients or prospective clients where FIA and its representatives are properly licensed or exempted.